Chico Benymon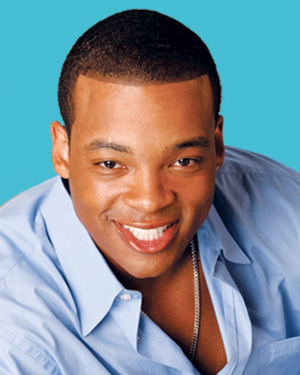 A protégé of actor/musician Will Smith, Chico Benymon's talents go beyond that of acting. Benymon is a vocalist in the Smith-produced R&B trip Tra-Knox. His vocals can be heard on the "Men in Black II" title track as well as on Smith's album "Born to Reign." For his work on "Half & Half," Benymon was nominated for his first NAACP Image Award for Best Supporting Actor in a Comedy Series. His additional credits include, "Moesha," Bounce TV's "One Love," and "Haunted Hathaways." His film work includes, "Ali," "Steppin: The Movie," "Because I Love You," "House Arrest," and the upcoming, "Soul Ties" with Rocsi Diaz and Rolonda Watts.
Telma Hopkins
Telma Hopkins has enjoyed immeasurable success as an actress and singer. She first came into prominence as a founding member of the group, Tony Orlando and Dawn. A string of hits, including "Tie A Yellow Ribbon," led to a successful variety show for the group and from there her acting career was born. She has starred in eight hit television series including, "Bosom Buddies," with Tom Hanks, "The New Odd Couple," "Gimme A Break," with Nell Carter, "Getting By," with Cindy Williams, and "Family Matters." She also guest starred in "Suddenly Susan," "For Your Love," "E.R.," "Chicken Soup for the Soul," "The Hughleys," and "Any Day Now." In 2004, Hopkins earned her first NAACP Image Award nomination for Outstanding Supporting Actress in a Comedy Series for her work on "Half & Half."
Valarie Pettiford
Valarie Pettiford has enjoyed a remarkable career on the stage performing on Broadway, Off Broadway and in regional theater, as well as in film and television. She began her training at the Bernice Johnson Theater for the Performing Arts in Queens, N.Y. By the age of 14, she was a teacher and choreographer for the school and became one of the lead dancers in the company. Pettiford is also a graduate of New York's High School of the Performing Arts. Her performance on Broadway in "Fosse" earned her both a Tony and Grammy nomination. Her other theater credits include playing "Velma" in "Chicago," in London's West End, opposite the legendary Chita Rivera. For her work on "Half & Half," Pettiford was nominated for an NAACP Image Award for Outstanding Lead Actress in a Comedy Series. In addition to appearing in numerous television commercials, Pettiford created the role of "Sheila Price" on the soap, "One Live To Live." She has guest starred in "The Blacklist," "True Blood," "The X-Files," "Walker, Texas Ranger," "Men, Women & Dogs," "Sliders," "Silk Stalkings," "The Division, " "Frasier," and The West Wing." Her film credits include "Why Did I Get Married, Too," "Stomp the Yard," Glitter," with Mariah Carey, "The Wiz," "The Cotton Club, and "Like Mike."
Essence Atkins
Essence Atkins is best known for her role as "Yvette Henderson" in "The Smart Guy" and her recurring role as "Marnie" on "Sabrina, The Teenage Witch." She was a regular in several television series, including "Malibu Shores" and "Under One Roof," and "Are We There Yet?" Her many guest-starring roles include "Moesha," "For Your Love," "The John Larroquette Show," "The Wayans Brothers," "The Parent'Hood," "Family Matters" and "The Cosby Show." Atkins' film career includes the title role in the independent film, "Nikita Blues." In addition, she starred with singer Monica in "Love Song." Other film work includes, "How High," starring Red Man and Method Man, "A Haunted House" and its sequel and "Deliver Us From Eva," starring Gabrielle Union and LL Cool J.
Rachel True
Rachel True grew up in New York City, raised by her stepmother who made a living as a Broadway actress. True broke into the business with a recurring role in the sitcom "Dream On," and made guest appearances in several televisions series, including "Dawson's Creek," "Damon," "The Drew Carey Show," and "Now & Again." True moved to Los Angeles to make her feature film debut in the rap parody, "CB4," with Chris Rock. She then portrayed a teenage witch in the cult hit, "The Craft," alongside Neve Campbell and Fairuza Balk, which opened at number one at the box office in 1996. Following that, she appeared in Greg Arak's independent film, "Nowhere" and went on to play Dave Chappelle's romantic interest in "Half-Baked." Other projects include the feature films, "New Best Friend," with Mia Kirscher, Dominique Swain and Taye Diggs, "Groove," which premiered at Sundance in 2001 and 2007's "The Perfect Holiday" with Morris Chestnut and Gabrielle Union. True was also seen in 2014's "Sharknado 2: The Second One."
Half & Half
Essence Atkins and Rachel True star as half-sisters, Mona and Dee Dee, who have only one thing in common: their father. Growing up separately, these two virtual strangers suddenly become neighbors in the same San Francisco apartment building, and experience the challenges of sisterhood for the first time.