When it comes to covering up your gray hair, the initial dying process is only half the battle. Touching up those ever-growing roots is the other half. Sometimes you can't make it to the salon for a professional job, so it's helpful to have a few tricks up your sleeve for covering your gray roots at home.
Here are four temporary, affordable ways to cover up your gray roots, even if you don't have much time to spare.
1. Root spray 
Root touch-up sprays add a temporary layer of color to your roots. They're available in multiple shades, and the color typically lasts until you wash your hair. The L'Oréal Paris Magic Root Cover Up is one popular go-to root spray; it quickly and easily conceals any area of gray, big or small.
We also like the AgeBeautiful Root Touch Up Temporary Hair Color because it's available in several different hues of brown. If you want a high-end option, Rita Hazan Root Concealer Touch Up Spray is effective for all hair types and sulfate-free.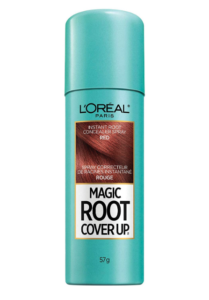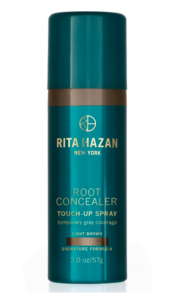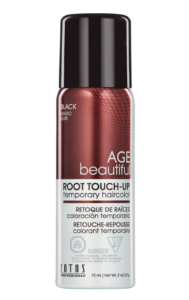 2. Powders, pens and pencils
While sprays are great for covering a fairly broad area, powders, pens and pencils are great for a more precise touch-up for scattered grays. Color Wow Root Cover Up is a mineral powder that's basically like makeup for your hair. It's a bit pricey, but it's a cult favorite among celebrity hairstylists because of its long-lasting color.
Clairol Root Touch-Up Temporary Hair Powder is another great powder product at a more affordable price. For a pencil-style product, we love the Bumble and Bumble Color Stick because it's jumbo-sized and easy to use. And for a pen, you can't go wrong with the L'Oréal Magic Root Precision Pen.
If you're really in a pinch and don't have time to buy new products, you may also be able to repurpose a powder concealer, foundation or eyeshadow to cover your roots.
3. oVertone
Dying your hair at home can be damaging to natural curls or coils. oVertone is a color-depositing conditioner, not a hair dye, so it's ideal for maintaining the health of your hair while also achieving a great tint of color. For an initial deposit of color, use the oVertone Coloring Conditioner and apply it like a deep conditioner — leave it on your roots for about 15 minutes and then rinse. You can also use the Daily Conditioner to maintain the color. oVertone is available in three brown shades: golden, chocolate and espresso.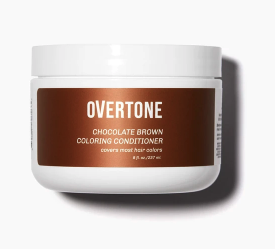 4. Time for a new hairstyle?
You may be able to hide your grays by switching up your hairstyle. If your gray roots are concentrated in a certain area, try parting your hair on a different side. Alternatively, try an updo such as a topknot or a high ponytail, so most of your roots will be concealed within the middle of your hair. Flat braids, French braids or flat twists are also great hairstyles to try for this.