It's easy to throw on a wig and keep it moving when you're having a bad hair day or just don't feel like messing with your hair. During the colder, winter months, a great wig can feel like a godsend. It keeps your head warm and looking fly, all at the same time.
But as soon as the cold temperatures melt away and the weather gets warmer, there's only one word to describe the experience of wearing a wig: hot. Especially in the South, where the humid heat can rise to three-digit temperatures, the mere idea of wearing a wig during the summer months is enough to make anyone break into a sweat.
Fortunately, there's good news for all of the wig wearers out there: You don't need to retire your favorite hair accessory when it gets hot outside — just take a different approach to wearing it.
Of course, there's no magic wand that can make the heat of a wig go away altogether. After all, it is an extra layer on top of your own hair. But there are ways to lessen the chance of overheating underneath your wig.
"It's all about your body chemistry," Jasica Gray, a wig maker who specializes in custom luxury wigs and the owner of Lavish Locs Hair in Dallas, Texas, tells Bounce. Gray says if you tend to sweat a lot, you don't need to ditch your wig, but you should consider the cap construction, hair density and amount of hair when choosing a warm-weather wig.
Cap construction
According to Gray, all wigs tend to fall in at least one of the following categories: closure wigs, lace front wigs, 360 wigs, full-length wigs and hand-tied wigs. Each type of wig includes the black cap part that sits on the head, typically called the "dome cap." In many cases, the dome cap is made of a thick mesh material that leaves little room for ventilation, therefore trapping heat onto your own hair and scalp.
However, hand-tied wigs are the exception to this rule. These medical-grade wigs, which literally are hand-tied in the back, were originally designed for people who have an extremely sensitive scalp or who are undergoing chemotherapy treatment. Though they're on the pricier end of the spectrum, hand-tied wigs are becoming more popular for women looking for a cooler alternative to standard wigs.
"They're extremely comfortable and very breathable," Gray said. "The mesh [dome cap] is super thin; sometimes it even has velvet around the hairline."
Hair density
As you shop for your next wig, be sure to find out the hair density. The lower the number, the better.
"If you're a person who gets hot, consider a lower density wig," Gray said. "Regardless of what kind of cap it has, the density is going to make a difference." She recommends staying within a density range of 130 and 150.
Amount of hair
Donning long hair down to your derriere for a trip to the beach may seem like a fabulous idea — if you're a character on a reality TV show. But in real life, it's a quick way to pack on excessive heat in no time. Instead, Gray suggests sticking with shorter, lighter looks.
The style of the hair is more of a matter of personal preference. "When you're talking texture, it doesn't necessarily make a difference. For some, a curly wig may seem like it's more hair because of the volume and you're like 'I'm hotter because I have more hair on my head,' but that's not necessarily the case when it comes to the texture," Gray said.
Lifestyle
Determine how much time you want to spend dealing with your wig on a daily basis, Gray advises. If you're low-maintenance, you may not need as much versatility. Or if you tend to get headaches when you wear your wig, consider a different type of cap.
Hairstyle
Sometimes the style of your own natural hair underneath a wig can make all the difference. Gray recommends wearing your hair in a cornrow pattern from top to bottom to ensure the air gets to your scalp in between the braided or twisted rows.
Accessories
Most standard wig caps are made of a thick stocking-like material that can feel like a smoldering barrier between your hair and the wig. Instead, pick a fishnet wig cap, which is made of a far more breathable fabric.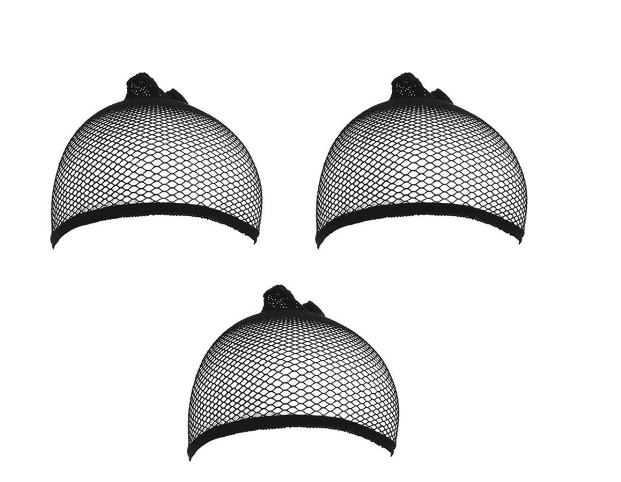 Also, try a hair grip or wig grip, a velour headband that sits around the perimeter of your head and prevents your wig from flipping or causing friction. Not only does it keep your edges intact, Gray said, but it basically releases the pressure of the wig and for some, lets the heat out.
Lastly, try the Headline It! No Sweat Liners.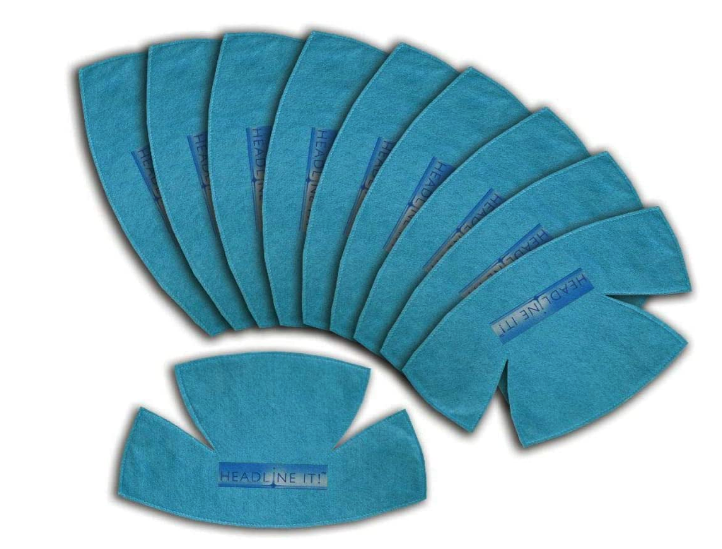 "Think of it as a pantyliner, but for your scalp," Gray said with a laugh. They're specifically made to absorb moisture and work with heat. Simply place the liner on the inside of your wig.
"The part that is exposed, facing toward the lace of your lace front wig, is beige so that it looks like your scalp," Gray explained. "The part that lays on your head is blue."  It may sound strange, but it works.
"Even firefighters wear them," Gray said.